DOGS NSW Magazine is the official magazine published by DOGS NSW on all matters canine. Produced monthly for our members it features all the latest dog news, events and in-depth articles covering canine health, behaviour, nutrition, well being and breeding.
Latest Edition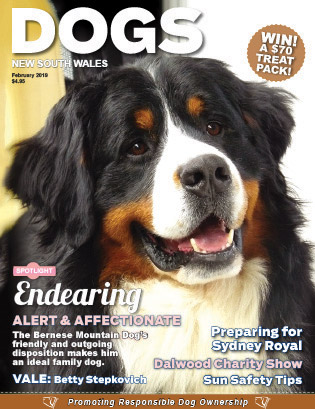 Spotlight Feature:
Bernese Mountain Dog
With a good natured, docile personality, the Bernese Mountain Dog is also alert, self-confident, fearless in every day situations and totally devoted to his family.


Also in this edition:
Full Coverage of DOGS NSW Public Relations Christmas Show
Plus:
AWCLO Report
Australian Military Dog received highest honour
Dalmatian 16th National Show
Dalwood Children's Charity Show
Preparing for Sydney Royal
Protect your dog from the sun
Vale: Betty Stepkovich
Vet Chat article by Dr Robert Zammit BVSc
Win a '$70 Treat pack' Competition
Puppy Competition
Breeders Directory
Classifieds
View the online digital version.
Gazette
Please click here to view the latest digital Gazette online.
Subscribe
In order to subscribe to DOGS NSW magazine you will need to become a financial member of DOGS NSW. Please contact the DOGS NSW office for further information or see the attached membership application.
Click here to become a member, or call 02 9834 3022 to arrange a member application to be posted
Advertise
Advertise in DOGS NSW magazine, the state's award-winning publication on purebred dogs. To find out more, please contact Kerry Christofi on 02 9834 0217 or Cathy Lupton on 02 9834 0205 at DOGS NSW for a Media Kit and to discuss advertising options.
Find out more about advertising here
Contribute
We are always on the look out for new contributors to DOGS NSW magazine.
If you've got a story to tell about your life with dogs, particular area of canine expertise or would like to write a letter to the Editor, please contact Kerry Christofi on kerry@dogsnsw.org.au or 02 9834 0217.